There truly is just something magical about summertime poolside living.
Whether it is childhood memories of splashing about in the pool, or snapping up Instagram moments when relaxing with friends, this inviting space is the ultimate mini getaway.
Fortunately, creating an inviting poolside gathering spot for friends and family is as simple as ensuring you have the right poolside furniture essentials. Think comfortable pieces, intimate seating spaces and relaxation nooks that will elevate your poolside look from plain to perfect!
Check out some of our top choices to consider.
Lounger look book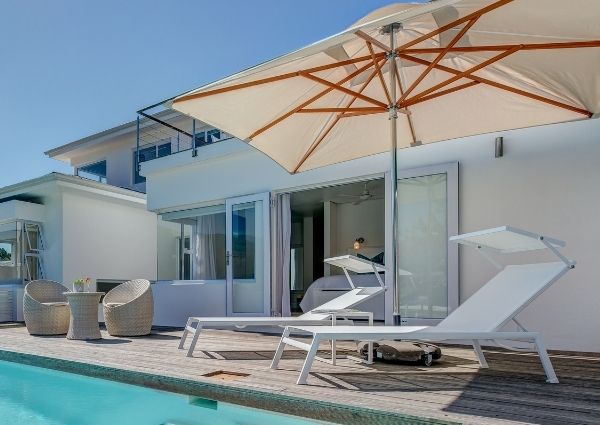 Did a couple of laps in the pool and need a breather? Just want to soak up the sun in ultimate comfort?
All you need is a sun lounger that ticks all the right boxes! So, what should you be looking for?
Aim for a piece that is not only made for the outdoors but also has comfortable seating. First prize would be to choose a sun lounger that doesn't need any extra cushion and allows several tilt positions to help you find a comfortable position to rest on.
Even better, invest in a side table for ultimate convenience – no need to jump up from your lounger to get a cold beverage when you can keep it next to you.
Need some more inspiration to tie your whole poolside lounging look together? You can check out our top 3 lounging area ideas right here.
Outdoor sofa sit-down – your way!
Choosing a modular outdoor sofa comes with perks – you can create your relaxation corner layout based on your poolside living needs.
Top tip: pick a sofa like the Bravo pictured here that has been fully upholstered in outdoor acrylic fabric that is made for the outdoors and especially the South African climate.
Hanging pod heaven
Consider a hanging pod that you can position on your patio to overlook your pool as you enjoy an ice-cold drink before dipping back in.
Opt for the deep-buttoned cushions variety that will ensconce you in absolute comfort.
Ready to explore more poolside options?
Soak up the sun your way this summer, and get inspiration for poolside essentials right here.