Whether you are looking for inspiration to give your living room a quick refresh or completely transform your living space you've come to the right place.
We've got a few great ideas and expert styling tips for you, including a few of our favourite furniture items.
Before you jump in, you need to consider a few things; such as the existing colour scheme of the space, will you keep the existing wall colour or are you considering a change? Then think about the function of your space, will it be used on a regular basis to watch TV and spend quality time with family or perhaps you are limited with space and would require a multi-functional furniture piece, such as a sleeper couch for when you have overnight guests? Also, before purchasing any new furniture decide which of your existing furniture items you would want to keep, maybe your sofa is still in good condition and all that is needed is a few scatter cushions.
Lastly, Are you renting? if so are you allowed to put artwork up on the walls or are you allowed to change the colour of the walls? Sometimes the owners/renting agent will give you some freedom in terms of personalizing your space, but always make sure that you are aware of the rules before drilling into your walls.
Whether you choose to completely redecorate or start with the basics, our styling tips below will guide you to create the living room that you've always wanted.
Decorating with Open Shelves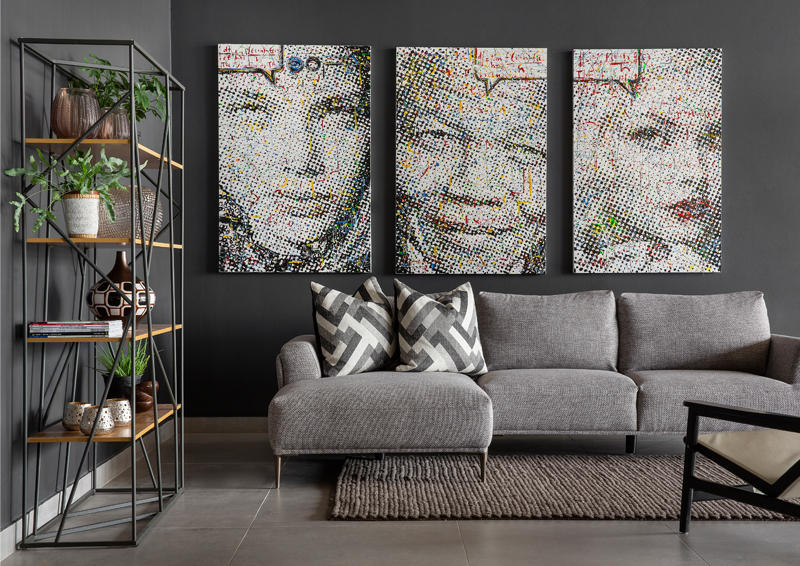 If all you need is a quick refresh then open shelving is a great way to go with a few vases and greenery to add colour to the space. It is also a great storage solution and can work as a room divider if you are looking to define areas in an open plan lounge. You can also hang original paintings above your sofa or throw in a few scatter cushions to spruce up your sofa.
Upgrade to a sleeper couch
Whether you are limited with space or you simply love the idea of a sleeper couch then this is what you need. If you are feeling brave then give your lounge a timelessly chic backdrop with a deep blue/grey wall colour. It makes any room feel calm and relaxed, however the trick with any dark colours it is important to balance it with large areas of neutral. A light grey sleeper couch with neutral coloured rugs will do the trick. If you feel like adding a pop of colour then add in a bright ottoman with some greenery.
Adding a Retro touch
Who doesn't love a retro-inspired interior? To create the perfect balance of shape, proportion and colour you need to carefully select your items. Start with a large retro-inspired sofa within a neutral colour tone, pair it with a dark wooden coffee and matching side tables – this style allows you to be different so go for a matching lounge table set in different shapes and heights. To finish it off throw in a few scatter cushions in the same colour tone with different patterns, a neutral rug and a unique piece of art in vibrant colours.
Soft muted tones
Create a welcoming atmosphere in your living room with soft colour tones with a hint of darker colours here and there for contrast. Light pinks or soft beige wall colours will make your living room look fresh, modern and sophisticated. Add a grey sofa to balance the colour scheme with a few scatter cushions in solid colours to draw everything together. If you feel like you need a pattern then add a coffee table with a marble top or better yet a unique credenza; with a honeycomb pattern such as the one shown in the interior above.
There is no better way to decorate your living room than with the things you love! Go for colours, texture and the styles that draw you the most. Always remember that you don't have to go big all at once start with the basics and build it as you go along.
If you feel inspired by this blog post then make sure not to miss out on the next one! Follow us on Facebook and Instagram for all the latest decor ideas.