Summer in South Africa is synonymous with long sunny days spent outdoors. As much as we encourage soaking up some sunlight, we're sure you'll agree that it's best to do so in a way that also protects us from the harsh South African sun. That's why patio umbrellas or other types of shading are a necessary investment to safely enjoy more time safely outdoors. But it can be tricky finding the right option to meet your needs.
3 Mistakes to Avoid When Buying Patio Umbrellas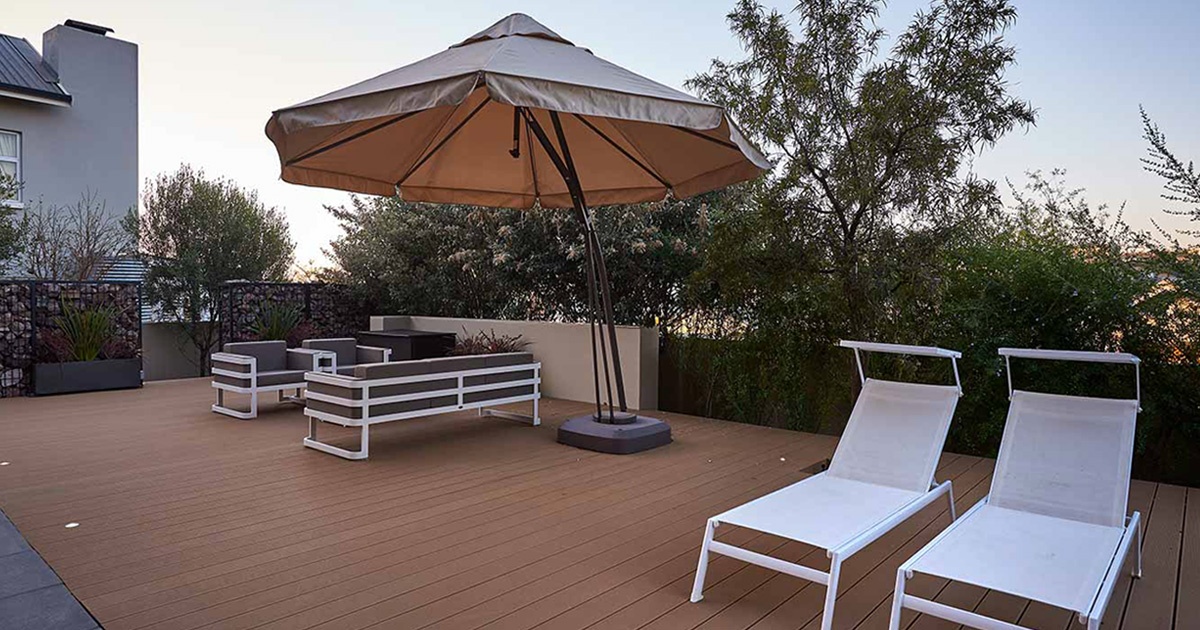 Before starting your hunt for the perfect umbrella, it helps to know what type of umbrella you want. The two main types are centre pole umbrellas, which are the lighter and simpler choice, and cantilever umbrellas, which are typically more expensive, but have more features and cover furniture better. But there are many more factors to consider.
We've all experienced buyer's remorse after making a hasty purchase instead of shopping around and doing a bit of research. Without proper research or advice, it's easy to make a mistake and buy the wrong patio umbrella. Instead of learning from your mistakes, you can learn from the experts instead, with our list of mistakes to avoid when purchasing an umbrella.
1. Buying an Umbrella With the Wrong Fabric 
There's no denying the appeal of trendy, eye-catching outdoor furniture. However, don't make a purchase based solely on aesthetic appeal. The main purpose of an outdoor umbrella is to protect you from the sun and provide shade. With this in mind, you should consider the type of fabric that an umbrella is made of. Pay attention to the materials that were used, and whether or not they are durable enough to be used for several years. An outdoor umbrella should be able to withstand local weather conditions. An umbrella's fabric will take the brunt of the scorching heat and UV rays. In addition to unsightly fading, the wrong fabric will tear quickly and won't last very long.
Outdoor fabrics, while tougher than their indoor counterparts, can quickly deteriorate when exposed to prolonged harsh weather conditions. Especially if it is cheaply made. Certain materials are longer lasting than others. You might pay a little more for a high quality patio umbrella, but you'll be saving money in the long run as they won't need to be replaced as frequently. Guarantee periods are especially important for umbrella fabrics.
Covers are typically included with umbrellas, but can also be purchased individually if you do not have one. We highly recommend purchasing a cover to protect your canopy from degrading prematurely.
2. Buying an Umbrella With The Wrong Base or Pole 
Patio umbrellas with thin poles are best avoided, as the slightest breeze can break them. Ensure that the diameter of your umbrella pole is suitable for the size of your umbrella and fits snuggly in the umbrella base. Steel poles should be avoided at all costs, as they will rust. Nor should you choose a centre pole umbrella that tilts, as they frequently need to be replaced.
Common pole materials include stainless steel, aluminium, and wood. We recommend an aluminium patio umbrella, as aluminium is both moisture and rust-resistant.
Umbrella bases should be chosen only after careful consideration. Bases either have a solid base or a filling base. Concrete, cast iron, and steel are popular materials for bases, but many cheaper umbrella bases are filled with sand or water. Solid bases are a better option in terms of stability. Water fill bases in particular can be wobbly or unstable. If you stay in a windy area, make sure your umbrella base is hefty enough to not be swept away by the first heavy gust of wind. Water filled bases are not stable enough to withstand windy conditions.
Before assuming that your umbrella purchase includes a base, ask if it is included in the price, as surprisingly, more often than they are sold separately.
3. Buying an Umbrella That Is Difficult to Operate
Umbrellas are a convenient solution for providing shade when and where you want it. To do this, some are designed with movable bases, swivel mechanisms and tilting mechanisms. Umbrellas without these mechanisms will not enable you to control shade and cannot easily be moved.
Patio umbrellas should not require a lot of effort or strength to open and close. Umbrellas that are difficult to operate are likely to be left open for too long, decreasing their longevity. Leaving an umbrella open when the wind comes up can mean a broken umbrella.
There are many options on the market that are easy to open, move, and tilt. The Auto Lift Umbrella with Mobile Base from Mobelli is an ideal solution for ease of mobility and use.
Patio Umbrellas by Mobelli Furniture and Living 
Being a conscientious consumer means buying better. Not only does this save you money in the long run, as you don't need to continuously replace broken umbrellas, but you are also contributing to a greener environment by not filling up landfills with unnecessary waste.
With these tips in mind, you can now confidently shop for the perfect umbrella to complement your outdoor living area. Remember to use these tips to guide you in your search to avoid unnecessary pricey mistakes. You can find more beautiful high-quality umbrellas and outdoor furniture at Mobelli.