A new year signifies, for many homeowners and consumers, the start of rejuvenating living spaces with the latest trends ruling international look books. Words like "fresh", "new" and "update" dominate interior décor blogs and lifestyle pages – no doubt inspiring décor enthusiasts to look beyond their homes' status quo to something different, something on-trend.
Marrying personal taste with trending furniture pieces is the ultimate goal here: it is all about styling the trends in a personal way.
Read on as we unveil 2020's hottest furniture trends.
1. Velvet crush
Velvet keeps on trending year-on-year and for good reason. Soft to the touch and glamourous, it is associated with the utmost comfort. Adding velvet upholstered furniture and accessories to your home not only enhances the look and feel of a room – it creates a feeling of warmth and enhances tactility, overall shaping a sanctuary from our everyday fast-paced lives.
What's more, is that this look is not resigned to just a few furniture design or colour options. Several of the latest furniture styles include velvet upholstered options in vibrant colours. Notable pieces include occasional chairs with scalloped edges, retro-style dining chairs and sofas, as well as super-soft scatter cushions.
If you are wanting an on-trend classic look that won't date, you cannot go wrong with velvet.
2. Monochrome chic
Monochrome spaces are timeless and edgy. They can be styled to make a big, bold impact, with, for instance, a bigger focus on darker colours; balanced with equal black and white tones; or muted with a neutral background dominating, depending on the style you prefer.
The staying power of the monochrome trend is that it can be incorporated into your home in multiple ways– from dining and living rooms, to the outdoors (think, for instance, of a patio with a neutral tile finish, off-set by an on-trend black dining table).
Striking and elegant, it is the look for those who are keen to bring a touch of glam to their living spaces.
3. Retro revival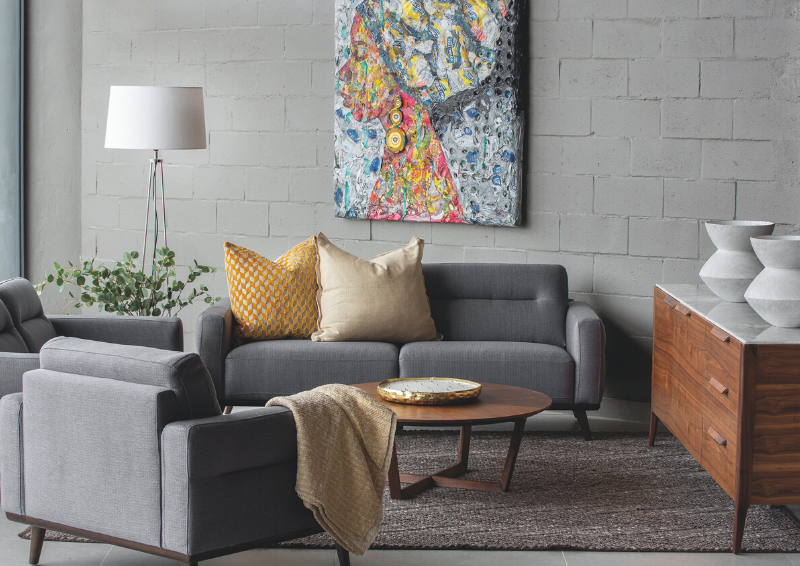 It comes as no surprise that the retro style is not slowing down. From retro style furniture available in the market to online streaming services showcasing TV series harking back to the 40s, 50s, 60s and 70s (and creating an inspirational home look book for many), it is clear that the retro look is very now, and very on-trend.
Whether inspired by pop culture or designs that you treasure from a decade or two ago, you will be pleased by the retro offerings dominating the current furniture market. With original design at the core but updated for the here and now with modern touches, the retro look has a fresh-faced approach in 2020.
4. Layer love
Retaining the core character of your home while bringing in trending pieces will be easy with this year's trend of layering old and new pieces.
This look is all about combining your good quality, existing furniture items with new items. It could be as simple as updating your living room with occasional chairs and side tables that complement your existing, good quality lounge set, or investing in dining chairs with velvet upholstery.
When considering bringing this trend into your home, keep in mind that you will need to assess and measure the space available in the room you have in mind to update. Especially when it comes to bringing in bigger pieces, this will include entryways for delivery and if the piece you would like to bring in fits through doorways.
Set for 2020 style
Like what you read so far? We will be unpacking more trend solutions and ideas on our blog, so be sure to keep an eye on our website.