It is not unusual for styles from a past era to make a comeback, we've seen it happen over the years with styles coming into the spotlight and Mid-century modern design is certainly making waves in the interior design industry. Although you may not be one to follow trends every time one pops up, mid-century modern design is an exception; known for its timeless qualities and forever-chic style.
SO WHERE DOES THIS STYLE COME FROM AND WHO WILL LOVE IT?
There has been some disagreement about when the period started, nonetheless it can be placed as having roughly began in the mid-1930s and lasting until the mid-1960s. The timeless quality of the style, however, continues to appeal to today's homeowners. This design style is great for those looking to add authentic vintage styling in their home without having to go full force as today's iteration is much more subtle in nostalgia.
Notable Features of Mid-century modern design
The distinguishing features of this style consist of:
A classic, understated look, and clean lines with minimal fuss
Functionality is important, as form follows function
Uncluttered and sleek lines with both organic and geometric forms
An exploration of different traditional as well as non-traditional materials
The juxtaposition of different, and sometimes contrasting materials
Mid-century dining room: Salisbury dining table paired with Newport dining chairs and Astoria Console Table
Colours & Materials
Think bright hues that touch on the optimism of the 50's while natural woods, greens, oranges, and earthy tones speak to the sophisticated spirit of the 60's and 70's. Just be sure that each room is grounded with subdued neutrals to keep a well balanced look and feel.
Mid-century inspired dining room: Ottawa dining table paired with Sherbrook dining chairs
How to Furnish in Mid-Century Modern Style
Don't feel compelled to throw out all your decor and furniture pieces just to get this style right. The great thing about mid-century modern design is that you can incorporate it into any existing interior style, simply by adding a few elements of this design. Generally one large piece can set the tone nicely. Build around it but avoid too many patterns and stay within a colour range, such as this stunning living room shown below.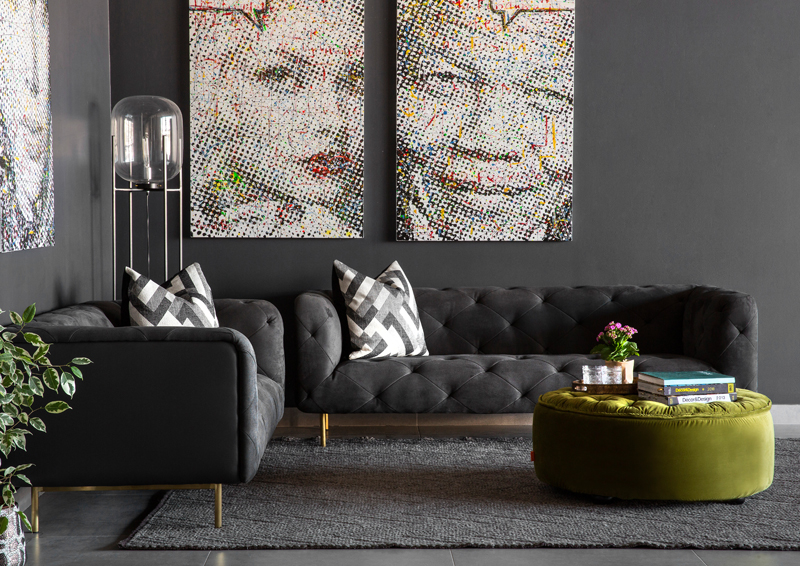 Mid-century inspired living room: Malone sofas paired with the Rochester ottoman
Add elements of Mid-century modern through accessories
Accessories are where you can have fun with mid century modern design without having to commit too much space or overextend your budget. Bring in just a few decorative pieces that are unique enough to stand on their own. Such as a trio of decorative vases with patterns, sculptures in varying sizes for added drama, and wall hangings in unexpected jolts of color.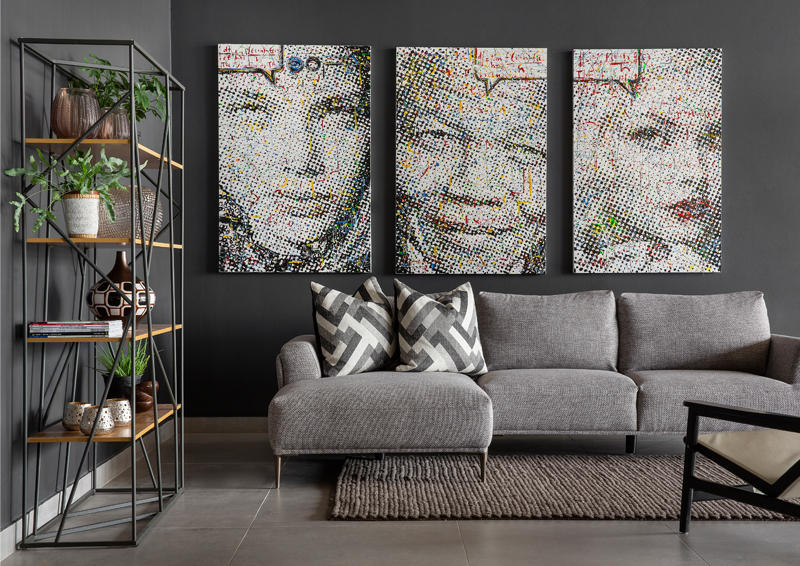 Mid-century modern inspired living room: Belmont sofa paired with the Highline shelving unit with beautiful decor accessories
Mid-century modern living room
Living rooms are often the largest rooms in a home and work as conversation areas to showcase a beautiful collection of furnishings while showing off comfortable seating and brilliant design. Incorporate mid-century modern style into your living room by bringing in mid-century inspired furniture pieces, such this gorgeous deep buttoned sofa shown in the image below. You can also bring in some surprises that aren't from or devoted to the era yet do share a similar aesthetic and silhouette as they'll help to make your home unique to you and give you more freedom.
Rochelle sofa with deep buttoned upholstery
If you feel inspired by this blog post then make sure not to miss out on the next one! Follow us on Facebook and Instagram or subscribe to our newsletter to make sure you don't miss out on anything.
{{cta('c1c9e0a4-e8b1-4072-a9b4-373e5b1d71e2′,'justifycenter')}}