This time of year is the silly season. Everyone is running around trying to get as much done as possible before the December holidays arrive. Admit it… it is tiring, you feel drained and all you want to do is kick off your shoes and relax on a sun lounger next to the pool with a cocktail in hand and not think about anything, other than how good this cocktail is. Right? With all this running around finding a good vacation spot can feel like another task, so why not create your own Staycation at home? To make life easier for you, we came up with a few ideas on how you can mimic your favourite vacation spot in your very own backyard.
Create entertaining zones
Think of your outside space like you would the inside of your home. What will the main functions be? Do you want an Alfresco dining experience? Or do you want to create a relaxation zone? Perhaps you want want a bit of both. Define the different zones by adding outdoor rugs or using furniture pieces to divide the space. Even the smallest of outdoor spaces can have zones. For instance, if your outdoor space is limited to balcony space, consider creating good transition spaces from the indoor to your outdoor area.
Choose the right furniture
The furniture you choose can make or break your Staycation vibe. Choose quality outdoor furniture that you know can be left outside no matter the weather, come rain or shine. With all the available options you will definitely find something that suits your style and comfort needs, for instance, the Novello lounge suite is the perfect choice for a holiday vibe and it offers all the comfort you need to entertain or to relax with your favourite book in hand.
Create a zen pool area
Summer is here and it is getting hot outside. If you're aiming to recreate your favourite vacation spot then a pair of sun loungers will do the trick. Not only will they give off a holiday feel, they will also transform your backyard into your very own zen space where you can unwind.
Create your very own nook
Have an empty corner? Like your alone time? Then a hanging chair (or two) is perfect for you. You can create your very own reading nook or simply just a spot that you can have some me time.
Create a focal point
Creating a focal point makes the space feel larger. You can do this by positioning your furniture to face the pool, a big tree in your yard, or even a fire pit. If you don't have a big backyard you can also create a focal point by creating a beautiful feature – this could be a feature wall or even an arrangement of pot plants.
Create your very own mobile bar
Inviting a few friends over for drinks or hosting a braai? Then a drinks trolley will solve all your problems, no more getting up to run to the kitchen to prepare the drinks. A drinks trolley is easy to move around and great for small spaces as well.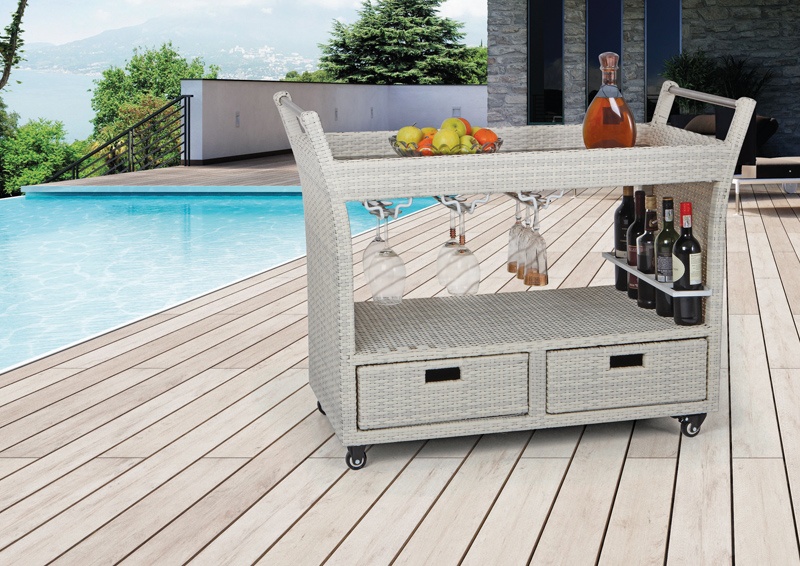 So there you have it, creating your very own Staycation is even simpler than it sounds. The best part of it is that you can retreat to your backyard anytime you need to relax. We hope that this post has inspired you to create a beautiful outdoor space. If you have any other ideas or would like to share what you've done in your backyard with Mobelli furniture feel free to connect with us on Instagram and Facebook.