Are you ready to celebrate one of the best holidays in South Africa? Chances are you are already planning your menu and guest list for Heritage Day celebrations – after all, who better to enjoy this special day with than your nearest and dearest!
We are feeling inspired too – and we know just the essentials that make for the best Heritage Day get-together. So, sit back, relax and enjoy browsing through our Heritage Day must-haves.
Top pick #1: The ultimate braai buddy
No surprises here – when it comes to Heritage Day celebrations, the braai is where it all happens! As mouth-watering aromas fill the air while delicious eats are sizzling on the grill, you are already licking your lips for the feast that awaits.
Like many (if not most) braai day fans you, without doubt, enjoy the camaraderie of gathering around the braai with a cold drink in hand, but you (and your guests) don't want to feel like you have been braaiing for hours.
However, having a hassle-free braai that doesn't take hours to be braai-ready means you will be digging into the feast in no time. Our top pick is the LotusGrill. This an award-winning braai has fast ignition that with the help of a built-in fan diminishes charcoal smoke and ensures your braai is ready to use within 4 to 5 minutes
Just add tongs and marinade brushes and you are good to go!
Top pick #2: The more (at the table) the merrier!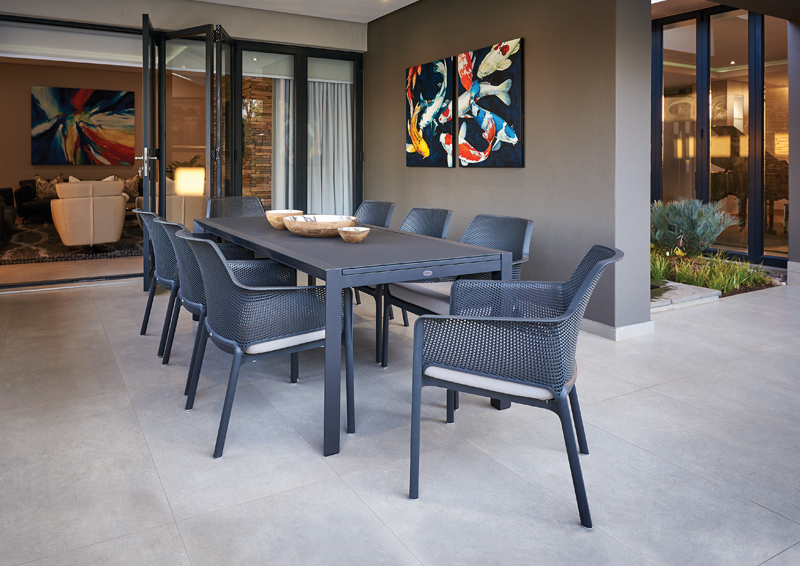 When inviting many people over (especially if we are talking about a special celebration like Heritage Day), the last thing you want is your guests feeling like they have no place to sit at the dining table.
'Missing out on enjoying the day' is the last dish you would like to serve up, so make them feel welcome by investing in an extendable table that transforms into a bigger table in minutes.
The trendy, eye-catching Mobelli Grandé Extendable Table has a host of seating options. The innovative extension piece hides under the table and can be pulled out effortlessly when needed to extend the table from 2.2m to 3.3m. This allows you to add 4 seats to your dining table when needed.
Want to know the best thing about an extendable table? It might just become your favourite outdoor entertaining piece.
Top pick #3: A comfortable sun lounger
Are poolside Heritage Day celebrations on the cards? Relaxing on an inviting sun lounger after tucking into a scrumptious braai lunch is essential – even more so if you were in charge of braaiing!
Our favourite relaxation go-to is the Lungo Sun Lounger. Its sling material features individually padded sections that offer exceptional comfort. Plus, you can move it around with ease thanks to 2 wheels cleverly hidden inside of the frame.
The last Heritage Day essential? Have fun!
Whether you are planning to enjoy the day with a small group of friends or going all out with the parties of parties, make the most of this well-deserved day off with your favourite Heritage Day essentials.
Let's get ready to celebrate!
{{cta('4f6de534-5359-4810-bf17-6673d58dc07d','justifycenter')}}