If you love to fill your home with stylish things then you will appreciate the newest modern deep buttoned furniture designs. This is not a new style by all means; it draws inspiration from the classic Chesterfield style, which is now making a huge comeback and you will notice it appearing in more interiors all over the globe.
The Chesterfield is a true classic that has been reinvented to suit our everyday lifestyle. Although the classic style is truly a magnificent design, the modernized version is perfect for contemporary living
How do you identify this style?
As the name suggests, the main features of these furniture pieces are the deep buttoned look, as well as the backs and the arms that are the same height. This isn't always the case; some versions do have slightly lower arms. However, most chesterfield sofas will have this distinctive design element.
Modernized versions play with texture and patterns, some have leather backs with fabric upholstery and others are fully upholstered in fabric with patterned ottomans. You will also find modular chesterfields which allow you to play with your layout to best suit your space.
Here are our favourite deep buttoned designs that you will love.
Play with texture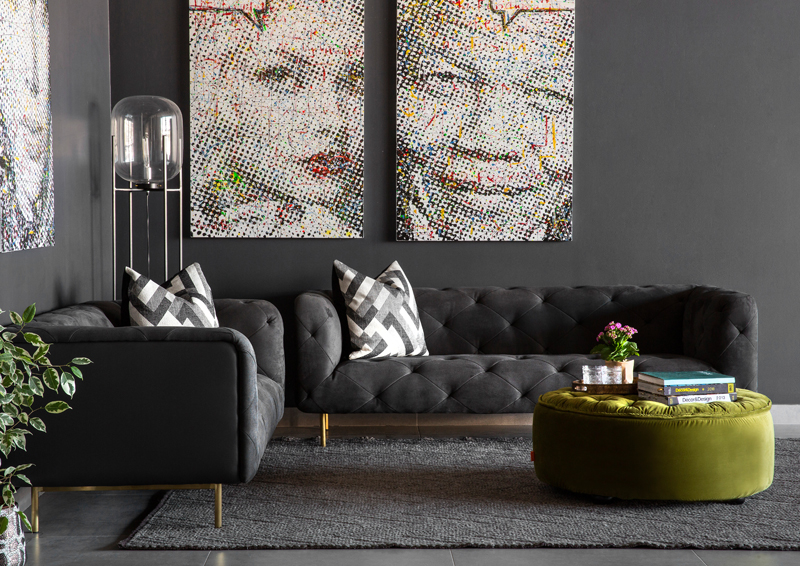 This stunning sofa features the distinctive design elements of a classic Chesterfield with cleverly matched leather back and fabric upholstery that will add a subtle texture to any space.
Pop of Colour
Add a pop of colour to your space with a bright deep buttoned ottoman.
Modern Twist
Style and comfort all put into one design, this sofa features the distinctive deep buttoned design but with a twist as the arms are slightly lower.
A hint of pattern
This sofa is perfect for any space in need of a hint of pattern, still keeping it sophisticated with its deep-buttoned design.
There are many different furniture styles out there; each with their own distinctive design elements that we love, which makes us excited to share them with you. So be sure not to miss out on any of our blog posts, follow us on Instagram and Facebook or subscribe to our newsletter to always be in the loop.
Which one of these deep buttoned design do you like most? Tell us below in the comment section.
{{cta('05dbf442-d3a0-4f9f-98a9-19c51e17d819′,'justifycenter')}}