If you are anything like us then you spend your best part (our favourite part) of the week lounging on the sofa, so it makes sense to choose your next one carefully. Especially if you live in a small apartment or house with minimal space. But how do you choose the right sofa and what type do you go for?
Before choosing your sofa you need to consider the size of the room, this will determine what size sofa you can fit in. Once you have familiarised yourself with how much space you have available keep in mind the other furniture items in the room and what space they require. Then you are ready to start shopping for that new sofa.
Without further ado, here are a few of our favourite sofa designs, perfect for small space living.
1. The Chesterfield style sofa
Choose a modernized chesterfield for a vintage-inspired look. The Malone 2 Seater Sofa features the distinctive design elements of a classic Chesterfield with cleverly matched leather back and fabric upholstery that will add a subtle texture to any space.
2. The Cosy chic sofa
If comfort and elegance is the first thing that you look for in a sofa then the Westbury 2 seater sofa is for you. It offers comfortable deep seating and will add a sense of relaxation to your living room with cushions you sink into and a chic, timeless style.
3. Retro Loveseat
If you prefer a more retro style sofa then the Bedford 2 seater sofa is the ideal choice for your living room. Rocking the Mid Century Modern style with wood detailing and grey upholstery. This sofa is perfect if you are looking for something to add character to your living room.
4. The Sleeper Couch
If your main goal is to minimize all visual noise and allow more breathing space then the Hampstead Sleeper Couch is the perfect fit, literally. It is made for small spaces and it doubles as a guest bed. Not sold on a sleeper couch? Read this blog post on 5 reasons why you need a sleeper couch.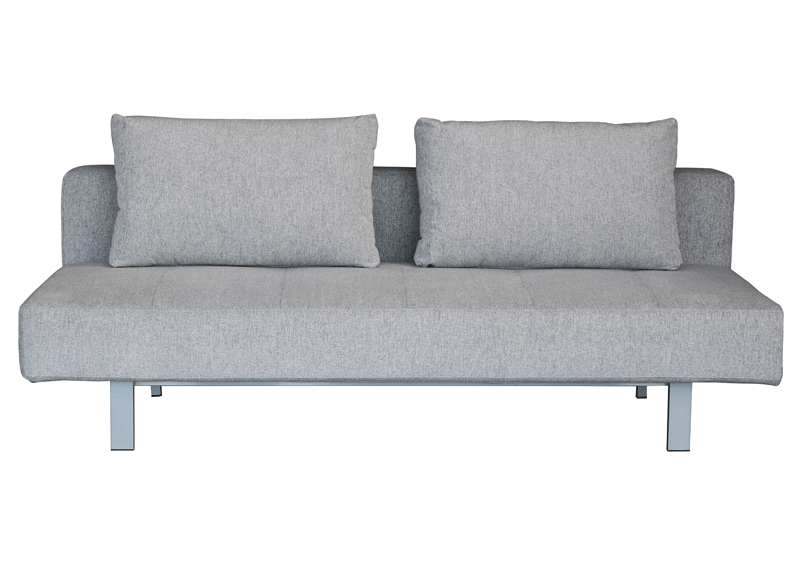 5. Organic Shapes
Choose a sofa with organic shapes to add a softer design ethic to your living room. The Caravel 2 seater sofa embodies minimalist design with low profiles and modern lines. Also, a very comfortable compact sofa that will easily fit into small spaces.
6. The trendy L-shape
It is not only 2 seater sofas that work in small living rooms, some L-shapes also work really well. If you love entertaining or have a close family who enjoys cuddling up while watching a movie then the Farnham 3 seater sofa with chaise with its modern design and comfortable seating is the sofa for you.
Adding style and comfort to a small living room isn't a problem if you watch the scale of your furniture. For instance, an over-sized, overstuffed couch will make any small space feel tiny. However, choosing a compact sofa such as one of our suggestions above will have the opposite effect.
We hope that you are inspired by our selection of compact sofa designs, each with their own personality, one for every living room. Which one is your favourite? Let us know in the comment section below, we would love to hear from you.
Looking for ways to make your small space seem bigger? Read our blog on 6 Tips that will make your compact home feel more spacious.
For more tips and tricks follow us on Instagram and Facebook or sign up for our newsletter where we will share updates on new blog posts, trends and loads of inspirational tips for your home.