To the untrained eye all outdoor furniture might look the same. Too often the difference seems to be only the price. However, this couldn't be further from the truth. It is important when you are buying furniture for outdoors that you seek clarity from the sales person in the store about key points to avoid making costly mistakes.
Check out these key facts that you need to know:
1. consider comfort first
You will be relaxing and entertaining on your furniture which is why you are buying it. The last thing you want is to be uncomfortable. Cheaper furniture items compromise on fabric and foam using low cost materials. This often means that the furniture wears very quickly. An outdoor lounge suite for example may collapse after just a few months leaving you with shapeless saggy cushions which you won't want to sit on. Also, bear in mind the fabric is where you interact with the furniture so you want it to feel great and give you the luxurious feel you're after.
BRAVO FROM MOBELLI USES FABRICS WHICH ARE SOFT TO THE TOUCH AND RESILIENT TO DIRT AND UV. THE FOAM CORE ON ALL MOBELLI CUSHIONS BOUNCES BACK INTO PERFECT SHAPE AFTER USE.
2. you want to be able to leave the furniture outside, even in the rain
There is often confusion about what the terms 'patio' or 'outdoor furniture' really mean. Some 'patio furniture' can only be left outside when it is under cover and not fully exposed to the elements. Who wants to worry about what furniture can be used where? Pret a l'emploi is the philosophy you need to know. This means that your furniture is 'ready to use' whenever you are! You should be able to step out onto your patio and enjoy furniture whenever you want. There should be no need to bring cushions in from the garage or remove furniture covers. Just sit back and enjoy.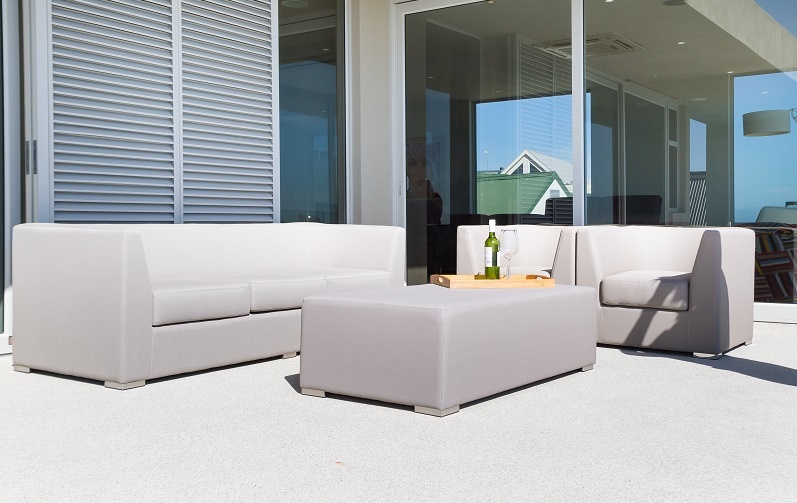 SITTING OUTSIDE SHOULD NOT BE A LOGISTICAL OPERATION. ALL MOBELLI FURNITURE CAN BE LEFT OUTSIDE WHATEVER THE WEATHER ALL YEAR ROUND
3. choose the right style for your space
Advances in materials and technology has made it possible for furniture to be outside in all weather conditions. Now choices are wide ranging from engineered rattan to sleek glass and aluminium through to fully upholstered furniture with the latest technical fabrics. If you love the look of wood that's great but choose wooden tops placed over an aluminium frame to guarantee longevity and avoid all the constant maintenance associated with all-wood furniture. In our experience buying cheaper furniture now may mean spending double in the future as you'll have to replace it sooner rather than later.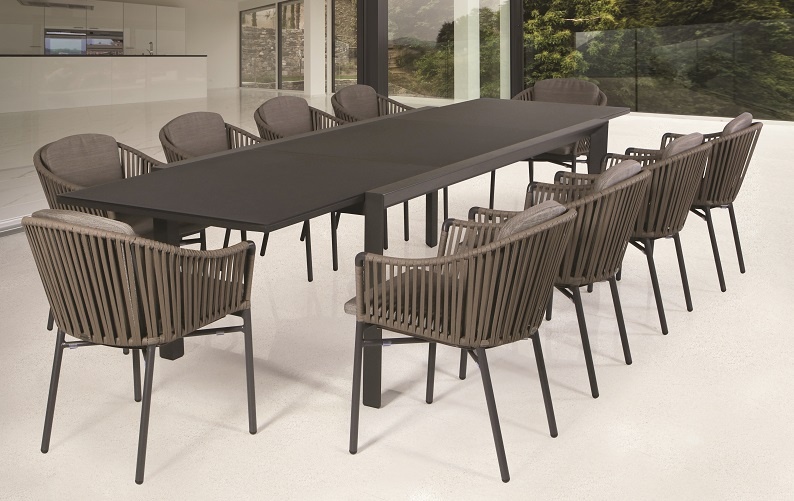 THE EXPERT CONSULTANTS AT MOBELLI SHOWROOMS WILL GUIDE YOU THROUGH MAKING THE RIGHT CHOICES TO SUIT YOUR SPECIFIC NEEDS AS WELL AS YOUR SPACE
4. INSIST ON SOUTH AFRICAN QUALITY! EUROPEAN QUALITY IS NOT GOOD ENOUGH
The South African climate emits some of the harshest UV rays on the planet. It is so severe that furniture is not able to withstand it for a prolonged period of time if it is not made to suit the weather conditions. Be sure to investigate how the furniture you choose will behave when exposed to continued sun, wind or rain. Don't fall into the trap of buying add on protection such as furniture covers either as they will only mean extra hassle taking them on and off. Only buy furniture which has been designed purposely for South African conditions to ensure it will last. Don't settle for anything less.
MOBELLI FURNITURE IS MADE WITH HIGH SPECIFICATION MATERIALS THAT CAN WITHSTAND WHATEVER THE WEATHER HAS TO THROW AT THEM AND WILL LAST FOR MANY YEARS TO COME
5. YOU SHOULDN'T HAVE TO SLAVE OVER FURNITURE MAINTENANCE
Avoid furniture that requires maintenance. Who has the time to scrub, clean and oil their furniture? If outdoor furniture is made from the right quality materials cleaning will be a breeze. Check out our video about the 'espresso test' – will the outdoor fabric you are choosing stand up to this? In addition, all our wicker furniture passes the 'ink test' so you can draw a line with a permanent marker pen and it comes off easily with a wet cloth. Make sure you have a clear idea from the store of what care the furniture requires and what happens in the event of an accidental coffee or wine spill!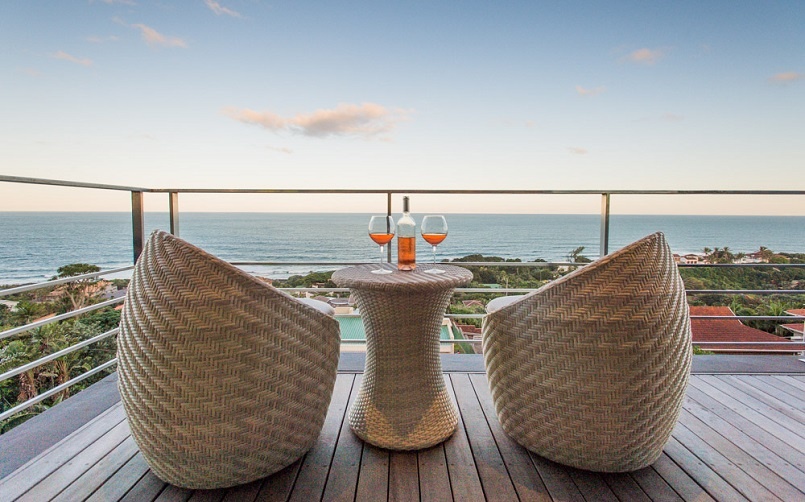 CHOOSE FURNITURE THAT REQUIRES VERY LITTLE MAINTENANCE. MOBELLI FURNITURE NEEDS A SIMPLE WIPE DOWN NOW AND AGAIN TO KEEP IT LOOKING LIKE NEW
If you require any advice about choosing the right outdoor furniture for your home, we are happy to help. We love to chat about the best way to enjoy outdoor living and we also make a pretty good cup of coffee.
{{cta('3eab8982-2cab-4bbb-bd1d-a0d1209babaf')}}