Sofas are one of the most important furniture investments you can make. You may be anxious to make a purchase but first consider its level of importance. There's a lot to consider before you buy. You don't want to regret your decision a few years down the line. After learning some important focus points, you can confidently spend your budget on a couch you'll love.
To help with your decision, we've compiled a list of the 5 most important things you need to know:
1. Check the Frame.
Construction is more important than the couch's design. Don't be distracted by only looking at aesthetics, find out what it's made of. Look for solid, sturdy frames made from durable materials. Mobelli only uses solid wood or metal for our frames and seating supports. We combine this with strong strapping for added strength and flexibility.
2. Consider the Cushions.
The quality of the materials plays a significant role in how a cushion feels. There are multiple options to evaluate, each with unique comfort levels:
Foam cushions are available in various densities:

Low-density foam

is soft, but it fails in support. Eventually, these cushions sag, leaving you sitting on the boards below.

High-density foam

is durable and robust, capable of withstanding heavy traffic. However, it is extremely stiff and uncomfortable to sit on.
Feathers

are another alternative. This is one of the most comfortable materials but it presents unique challenges. Loose feathers are easily shifted, causing cushions to lose shape. They must be plumped often to be re positioned, which can be frustrating.
Mobelli cushions are crafted with an exacting recipe to provide luxury seating options. Our cushions are made with a mix of feather and acrylic, ensuring optimum comfort levels. A layered blend of premium foam and ethically sourced feathers is evenly distributed and hand stitched into sections. The result is a plush cushion that requires little fluffing.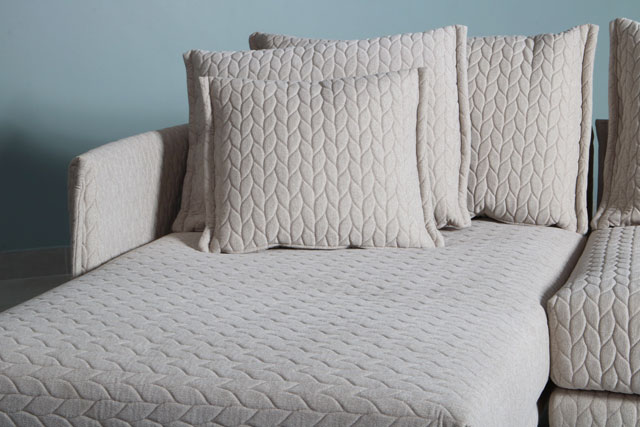 3. Focus on the Fabric.
Choose fabric that feels good to the touch. It should also be comfortable for you to sit on. Mobelli furniture is available in a wide selection of beautiful fabrics including cotton linen, which stays cool in summer and warm in the winter. We also offer trendy, tactile options like luxurious velvet and leather-look vinyl.
4. Back Support.
The seat cushions steal most of a buyer's attention but don't forget to evaluate its total support. The back section of Mobelli sofas are constructed with the same detailed focus on providing the utmost comfort. Each of our designs are padded with quality foam that creates the best structure and guarantees your back stays comfortable while you sit.
5. Ergonomics Is Important.
There's a science to designing a comforting couch. Styles must accommodate the perfect combination of pitch, angle, and depth, to create an optimum seating experience. Mobelli sofas are carefully designed with detailed focus on satisfying the most discerning comfort requirements.
Whilst considering these points, be sure to test the sofa for yourself before making a commitment. Don't just plop down for a few seconds. Give yourself time to relax during a chat with the sales person. Feel free to stretch out and lie down, if that's how you plan to enjoy it at home.
With these 5 tips, you can ask all the right questions to guarantee you're making a quality decision. Book A Consultation With An Expert to learn more about the purchasing process.