Many people love the look of wooden outdoor dining furniture for its natural look and warmth. Nothing beats the beautiful smell of a new wooden table. Taking a sniff of the table on the showroom floor is magical. There are many affordable options available but there are some pitfalls though. Read the article below before making up your mind on the table you want.
1. buying wooden furniture is usually a false economy
The quality of wooden outdoor dining tables differs wildly. Cheaper wooden outdoor tables will deteriorate on exposure to the elements. In a short time, it will begin to crack and the structure will weaken. Buying cheaper furniture may seem like a good idea at the time but it will cost you more as you will need to keep replacing it. If you want to save money in the long run it is better to invest in an outdoor table which is durable. Don't get us wrong. There are many durable wooden options out there but they are very costly. We simply have yet to find a cheap and durable outdoor dining table that won't require replacing.
The solution: Choose dining tables which will last. Usually that means that the construction is not made of wood. At Mobelli you can have beautiful affordable outdoor tables which are built to last, have the look of wood, require little maintenance and are hassle free.
2. the product you buy is not you get after a few months
People are usually attracted to wooden outdoor furniture by the look. However, with wooden furniture the look you wanted changes quickly. Exposure to the sun changes the appearance and it's possible that you were attracted to a brown wooden table and after a few months you are left with a dark grey piece. To keep the look you will need to invest time, effort and money. The tables require regular maintenance which involves sanding, staining and sealing the wood. Bear in mind regular maintenance could be needed as often as every 6-8 weeks. Don't under estimate the work involved.
Read here how the owner of Mobelli soon discovered the romantic idea of maintaining his wooden furniture was not what he thought it was!
The solution:  Mobelli tables require no maintenance aside from a wipe down now and again.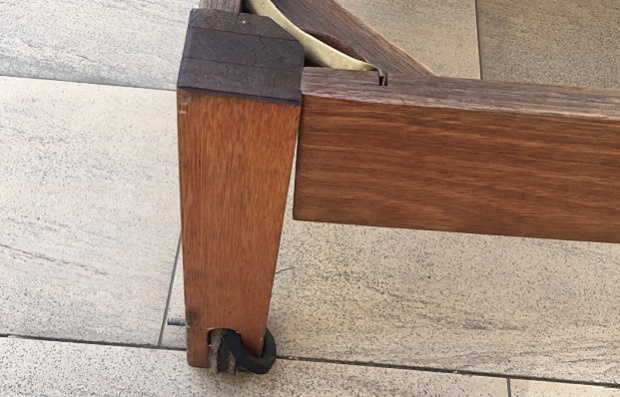 3. WOODEN FRAMES WOBBLE AND OFTEN BREAK
Wooden dining tables are constructed of a number of parts which are fixed together with glue and bolts. Regular use as well as the climate place pressure on this construction and you often end up with wobbly tables as the joints weaken. Imagine your frustration as the table wobbles whilst dining at the table. Over time you will not have confidence in the table and you will not want to use it. We have friends that have to call carpenters regularly to glue and fix their tables. Life should be so much easier than having to maintain stuff. We simply should not have these worries.
The solution:  Mobelli uses aluminium frames which are welded together. You can be assured of stability, strength and durability for many years.
4. WOOD tables are not best suited to the south aFRICAN CLIMATE
The harsh South African sun will fade the wood and dry it out so it begins to crack and weaken. Our climate in large parts of the country means that we have exceptionally hot days and cooler nights. This means that the wood will expand and contract regularly weakening its construction. The structure will deteriorate and without (you guessed it) regular maintenance your table will become unsightly and wobbly. This again makes for a poor investment and a puts a dent in your desire for hassle free outdoor living.
The solution:  All Mobelli furniture is specifically designed to withstand the weather conditions here in South Africa. Our aluminium construction can expand and contract easily without losing its integrity. All of our products are designed to work with the weather and be ready for you when you need it.
5. DID YOU KNOW rust would be an issue?
We mentioned earlier wooden dining tables are usually fixed with bolts so these are prone to rust. These bolts and screws will weaken with rust which will then mean that your table will simply break down. Again, cheap tables are cheap because they use inferior raw materials, not because the shop does not pay for advertising.
The solution:  Mobelli tables cannot rust as our raw material used is aluminium. All the bolts and nuts used are made of stainless steel which has been further treated to prevent rust.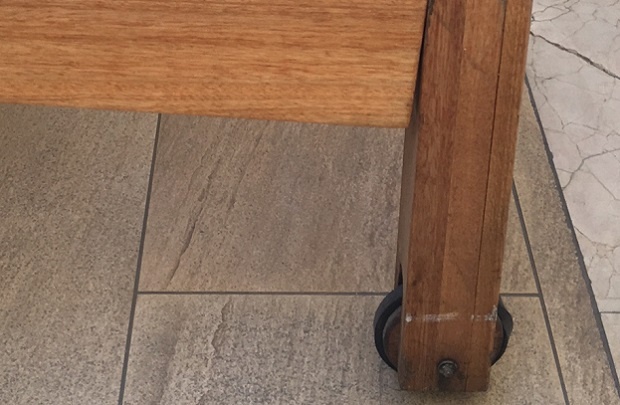 All the above points have merit but what if you simply love the look of wood? At Mobelli we love it when our wooden tables come onto the floor. The smell is just amazing. We are so confident in our tables avoiding the problems above because all of them are made with a wooden top resting on an aluminium frame. Take for example our Bella Vita table. Its base is made from scratch resistant powder coated aluminium (the reverse bevel legs themselves are a work of art) which means it is super strong and light and the top is made from wide teak wood slats. Here, you get to interact and experience the wood and yet know that this table will sit on your patio, exposed to the elements for many years without hassles and worry.
We have great news – the Bella Vita dining table is currently on special. If you want to save lots of money and get a stunning, hassle free table with a wooden top then click the link below to find out more.
{{cta('64b93650-c802-40ca-b0f4-3c3c2ff6405f')}}