An outdoor space is an extension of your home, so why not enjoy it longer? Whether it's a patio, pool area, or terrace, adding an outdoor heater lets you enjoy your outdoor space long after summer has come and gone. Outdoor patio heaters can do more than add warmth; they become an attractive centre piece and bring ambiance to your space.
There is a huge variety of patio heaters you can choose from. Heaters with a visible flame running through the middle are a popular choice as they are highly attractive. However, be mindful of these key elements and ensure that the heater you buy is one which suits your needs.
1. Will your heater keep you warm?
This seems like a silly question to ask but it is here for a reason. There are a huge variety of visible flame outdoor heaters on the market. They may look great but strangely enough they do not emit enough heat to keep you warm. There is no point in buying a cheap heater that simply acts as a lantern and hardly heats you and your space. You'd be surprised by how many people are fooled. They are lured in with a cheap price and are rewarded with no functionality.
The Falo Evo from Mobelli is made in Italy. It is the original, award winning heater and delivers on its promise to keep you warm. There are a host of cheap copies out there but don't make the mistake of thinking all heaters are created equal. They are not.
The secret of the Falo Evo lies in the patented glass tube. This glass tube, unique only to the Falo, gets heated from the visible flame within and then radiates effective heat which warms the space around you. This means the entire area is warm – not just the people sitting next to the heater.
2. How much will it cost you to run?
Buying a heater can turn into a financial decision. Two factors need to be considered:
1 – The heater cost and, 2 – The cost to run it. Normally there is an inverse relationship between the two.
The cheaper the heater, the more money you will spend on gas to power it. It makes more sense to buy a 'quality' heater which might cost more up front, but which will save you money on gas going forward. Some tests have shown that the Falo Evo will pay itself back within 6 months of use (when compared to mushroom style heaters). 
The visible flame has mistakenly been criticized as wasteful. We can guarantee that the Falo is the most cost effective and least wasteful heater on the market today.
3. DON'T COMPROMISE ON safety TO SAVE MONEY
Safety is one less thing for you to worry about with the Falo Evo from Mobelli, it comes with an integrated tilt switch. This unique mechanism senses if the heater has been tilted or knocked over and automatically switches the gas flow off. Wind, falling guests and accidents happen and cannot be avoided. Make sure you choose a heater that will not blow up when accidentally bumped over.
In addition, the visible flame of the Falo Evo is protected by a metal grid. It is safe to touch and remains cool even when the heater is in use. Ideal when there are children around!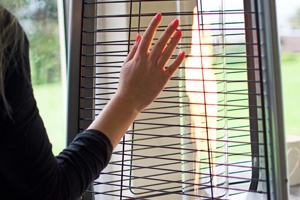 4. Heaters are heavy for stability – how easy will it be to move?
Whether you and the family are dining al fresco or you are gathered with a few friends for a drink you want the flexibility to move the heater around. Many heaters are heavy which is great as it makes them stable, however this is a problem when you want to move your heater. The Falo Evo has two sturdy integrated wheels that allow one to move the heater around with ease even when the heater is on.
5.  
will your heater keep clean?
If you have owned a similar looking heater before or seen one at a restaurant you may have noticed the glass has turned black. This looks unsightly plus it is a real challenge to clean the inside of the glass. Black soot marks are formed on cheaper heaters when the flame touches the glass particularly created if you use low quality gas. The Falo Evo is the original and is designed to avoid these issues.
The reason for its ability to maintain a clean glass is the fact that it is well built, without taking any shortcuts. The Falo is made in Italy, in Modena (where Ferrari, Lamborghini, Ducati and most importantly, balsamic vinegar are made). We want customers for life. That is why we won't sell cheap heaters, we know they will give you problems the moment you start operating them.
Final thoughts
The Falo Evo is the standard in the industry. It follows Mobelli's philosophy of 'use it and leave it'. As every owner of a Mobelli Falo heater will tell you – "it is the best heater I had ever bought".  If you are a hospitality owner don't make mistakes that others do. The cheapest option in the long run is to buy the right product first time. It's useless to go and spend money on an inferior product which does not do its job and then end up buying the Falo Evo from Mobelli. Don't compromise. Start with the best!